T-Shirt Blueprint
Welcome, to your T-Shirt Blueprint. A Blueprint that will show you how you can start making massive profits by selling t-shirts on sites like Teespring and Fabrilly.
You are probably already aware that there are thousands of people making thousands of dollars each day selling t-shirts online but how do they do it so successfully? Well without doubt some t-shirts sell way, way better than others either because of the niche or the design. This blueprint will provide you with a roadmap that you can use to ensure your success with your t-shirt sales right from the start which means you can avoid all the trial and error from going after the wrong niches or the wrong types of designs.
In addition, this blueprint will taken you through all the steps you need to follow to get quickly set up and selling t-shirts on Facebook in the shortest amount of time.
Teespring is the number 1 marketplace for selling t-shirts in the USA, they manufacture and ship from the USA and they have the best brand recognition. However, when it comes to shipping t-shirts to countries outside of North America Fabrily is where the opportunity lies.
Whereas Teespring is focused on two countries if you include Canada with only one language. With Fabrily you have multiple languages that it can focus on and so therefore many, many opportunities in Europe and Worldwide.
Fabrily will ship to over 100 countries with 5 core languages supported and dozens more you can sell to and presents therefore a huge opportunity for hidden 'pockets of profit' .
So there is huge potential to sell to many of these small niches in small countries that you would never be able to target using just Teespring.

There are essentially four steps to follow in our T-Shirt Blueprint, these are:
Step 1: Niches - Find profitable niches, a group of people or audience who have something in common that you can advertise to on Facebook
Step 2: Tshirts - TeeSpring: Create t-shirt designs by brainstorming or tweaking other designs currently out there and launch them on TeeSpring ready for our Facebook ads.
Step 3: Traffic - Facebook: Run targeted ads. This is where we drive targeted traffic to our TeeSpring campaigns and because our ads are highly targeted these are people who are likely to buy the t-shirts we are promoting.
Step 4: Profit - Test many and expand the winners. The idea here is to launch several designs and quickly 'kill' the ones that are not doing well and focus and expand further on the ones that are making sales.
Step 1: Choosing Your Niches
STEP 1 - Find Your Niches
As we mentioned earlier some niches work much better than others when it comes to selling t-shirts and there are certain niches that consistently produce very high sales over and over. Here are out list of the top 20 niches that we recommend you start out with to give you a head start:
Firefighters
Veterans
Nurses
Engineers
Accountants
Warcraft
Gaming
Computing
Pilot
Rescue Cats
Labradors
Pitbulls
Chefs
Paramedics
Mechanics
Photographers
Beards
Farming
Drumming
Teachers

Alternatively, look at campaigns that are currently selling t-shirts in high numbers. The best places to look are on sites such as ebay, Zazzle,
Amazon, Redbubble to name just a few.
Go to these sites and search best-selling t-shirts and see which niches keeping showing over and over. It might be for nurses or mechanics or a funny slogan.
You can also check out sites such as http://www.teescover.com/ and http://www.teescover.com/ to see best-selling t-shirt designs. Look at the niches they are selling in to give you an idea if a niche is going to be profitable or not.
Research keywords on Facebook, Google and Amazon to see if there are products our there currently being sold in that niche. Just enter your chosen keyword on each site and quickly check the number on Facebook to make sure there is an audience that niche.
The idea is to find t-shirts that are selling on other sites such as Amazon, ebay, red bubble etc so we know they are popular but not too many of them on TeeSpring. The reason for this is because if other teespring marketers see high numbers of shirts selling on teespring then naturally they are going to go after this niche which increases the competition so ideally we want to find the 'sweet spot' of tee shirts that we know are selling well but haven't been over exposed on teespring.

Step 2 - Generating Design Ideas
When it comes to creating designs for your t-shirt campaigns you have several options. Firstly, you can choose to create the design yourself. This is fine if you have experience in this area but probably for the most that won't be the case.

A second option is for you to outsource the creation of a design to somewhere like Fiverr.com where you can get your design done relatively cheaply. The downside to this is that you may find that you have to wait several days for your design to be ready unless you are prepared to pay extra dollars for it to be turned around in one or two days.
You can also use our Auto Designer software which you received for free when you signed up for this blueprint. Our Auto Designer software allows you to create designs which you can then upload to your pc already formatted into a PNG file ready for you to use with our TeeSpring campaigns.
Alternatively, you can use our T-Shirt Blueprint #[1 Click Designer] software which allows you to create t-shirt designs in literally seconds. All you need to do is enter your text and images which are then inserted into 130 top-selling design templates for you to choose from. Once you've made your selection download your design ready for your TeeSpring campaign. A definite time-saver if you want to set up more than one campaign.
What's more our design templates are the exact ones we use to generate huge profits in our campaigns so they are proven design templates that have converted over and over into sales.
Step 3 - Launch Your TeeSpring Campaign
Now you're ready to set up your teespring campaign. It's really quick and just takes minutes to do.
A) Sign up for a free account with teespring here : www.teespring.com. Hit the Get Started button to start create your first campaign (nb: once you've created your first campaign it will ask you to complete your sign-up details so that next time you will log in first before setting up your campaigns - don't worry it's free to join Teespring).
B) Upload your t-shirt design by locating the file where you have your t-shirt design on your pc and hit the 'Add/upload art button:

C) Once you have uploaded your design it will display on the t-shirt. Remember to select the Black Hanes Tagless Tee option. Once you're happy with it hit the 'Next step' button:
D) You will then be taken to the sales goals settings page. Set your t-shirt price between $20 - $23 dollars and a sales goal of 20. Be sure that you selected 'black hanes tagless tee' above for the best return.
Again, hit the 'Next step' button to go to the next screen. Here you will need to enter a title and description for your campaign, as well as the campaign length and the url you choose for the campaign.
So, enter the title of your t-shirt, and the description in the box (we have provided the full description we suggest you use directly under this image). Set you campaign to run for 7 - 10 days and choose a url for your campaign - this is the link that people will see in your facebook ad when it goes live.
Here is the full description you can use for all your campaigns - just remember to change the end of campaign date!

Sale ends October 28th.
Click Buy It Now below to order yours today. This will not be reprinted.
Not Sold in Stores.
Guaranteed safe and secure checkout via: PayPal / VISA / MASTERCARD
Click Buy It Now to pick your size and order.
Next scroll down the page, check the terms and conditions box and then hit the 'Launch Your Campaign' button at the bottom of the page. Your teespring is now live!
If you are choosing to use a non-English campaign then you will need to launch your campaign on Fabrily. Remember earlier in this guide we talked about how Fabrily caters for the non USA market. The process is very similar.
Firstly you will need to sign up for an account at https://fabrily.com/ (it's free to set up an account).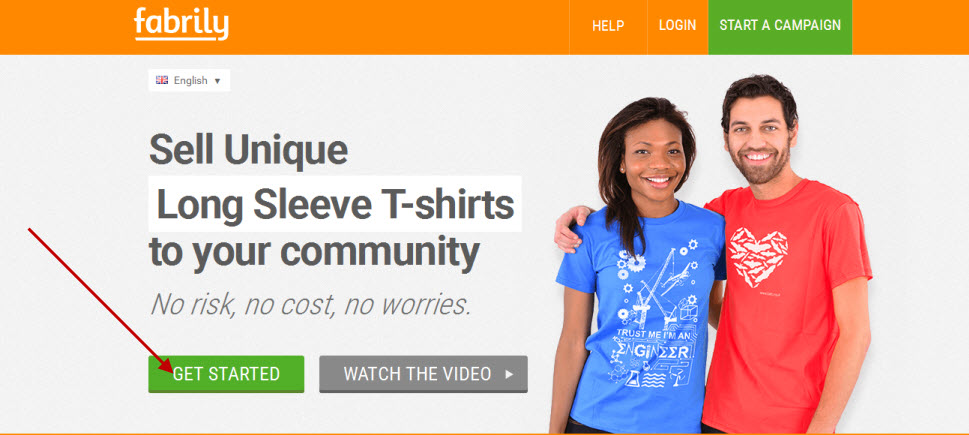 The steps to set up a campaign are almost identical to those of Teespring so just follow the screen instructions.
The only major difference is the description for your campaign which will be in the language of your campaign.
Below is a screenshot of the Fabrily campaign page with the English text, however, we have also provided you with generic descriptions you can use for all your German, French and Italian Campaigns.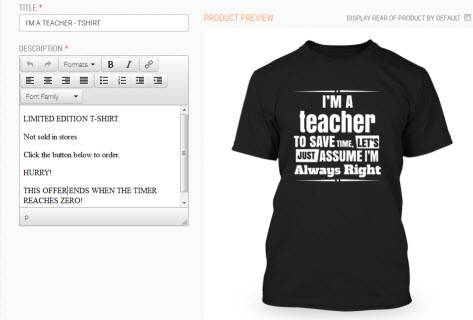 English
Limited Edition T-Shirt.
Not sold in stores.
Click the button below to order.
HURRY!
THIS OFFER ENDS WHEN THE TIMER REACHES ZERO!

French
T-Shirt en Édition Limitée.
Non vendu en magasins.
Cliquez sur le bouton ci-dessous pour passer commande.
NE PERDEZ PAS UN INSTANT !
CETTE OFFRE SE TERMINE LORSQUE LE COMPTE À REBOURS ARRIVE À ZÉRO !

German
T-Shirt in limitierter Auflage.
Nicht erhältlich in Geschäften.
Klicken Sie auf den Knopf unten um zu bestellen.
SCHNELL! DIESES ANGEBOT ENDET WENN DER
TIMER NULL ERREICHT HAT!

Italian
Maglietta a edizione limitata.
Non disponibile nei negozi.
Clicca sul pulsante qui sotto per ordinare.
AFFRETTATI! QUEST'OFFERTA TERMINA QUANDO IL CONTATORE ARRIVA A ZERO!
Step 4 - Prepare Your Facebook Campaign
A) For each niche you need to have a potential Audience Reach of between 100k - 1 million for your campaign to be profitable. So the first step is to brainstorm keywords for your chosen niche. The easiest way to do this is by using Facebook's 'Audience Insights' which allows you to enter different demographics and interests for your niche.
Here's how we do this:
i) Click on the 'Audience Insights' link on the left side of the screen within the ads section of Facebook
: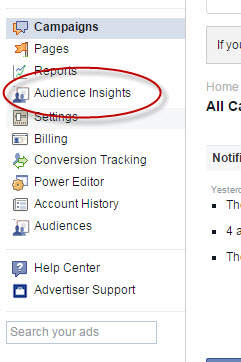 ii) After this you will arrive on the Audience Insights page.
Here you can see the audience demographics I have entered for the firefighter niche which has given me a potential Audience Reach of 500 - 600k.
Location: United States
Age: 37 - 50
Gender: Women
Interests: firefighter
NB: Spend 15-20 minutes exploring these demographics to see how different interests, age and gender affect the potential audience for your campaign in order to get the best results.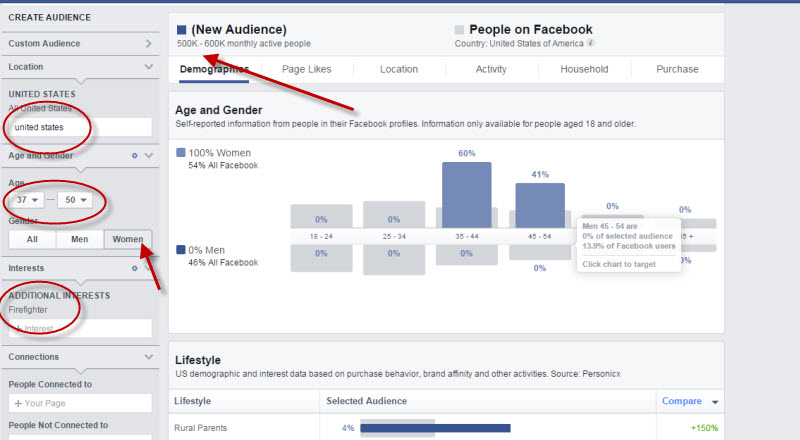 Also, do not underestimate the power of using Audience Insights for your interests research. By playing around with the demographics for your interests you will be able to find the best audience for your niche.
Another powerful aspect of using Audience Insights is the 'Affinity Score'.
The Affinity Score is Facebook's way of assessing "How likely your audience is to like a given page compared to everyone on Facebook".
This is a very useful feature for us because we can see which pages are audience are interested in and in turn feed those pages into our interests search to see if they have an audience.
Once you have entered your demographics and interest click on the 'Page Likes' tab:


Then scroll down the page to see the 'Affinity' score. If you click on the 'Affinity' link it will rank pages with the highest score first.
You can then enter those pages with the highest Affinity score into the interest box to find more targeted interests for your audience. Not all of the pages will have an audience but some will have an audience and you should use these in your targeting as a powerful way of targeting your audience with very targeted interests: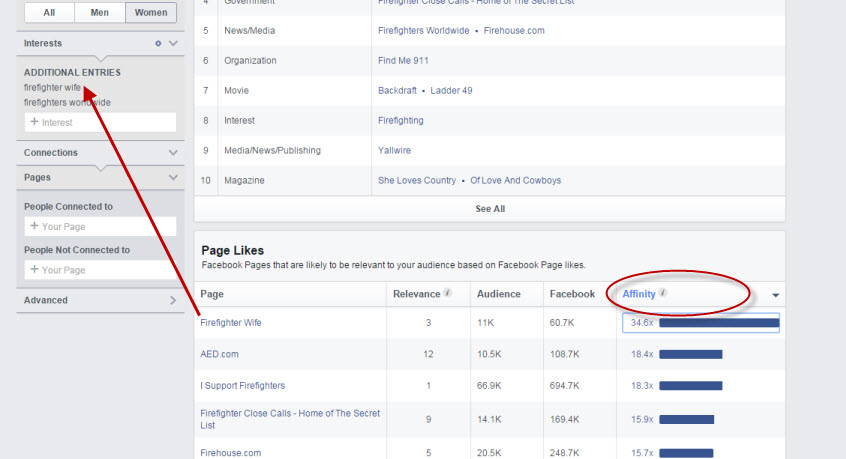 B) How To Find Interests
There are several ways you can find interests. Either by searching your keyword on Google to find groups, communities, organisations etc and you can also use Facebook's graph search facility as well as Audience insights.
i) For example if our niche was labradors on Google we might search for :
labrador puppies
chocolate labradors
rescue labradors
labrador magazine
labrador lover
adopt a labrador
These keywords would allow us to explore further keywords and ideas for labradors to see if there are any associations, society's or organisations for those interests, for example:
Associations: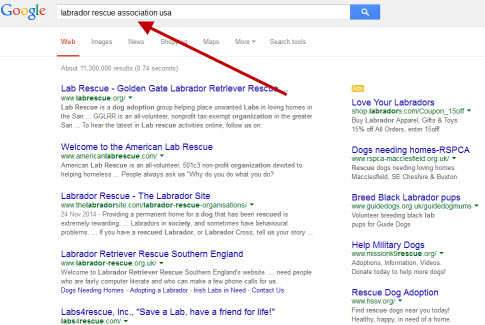 Magazines: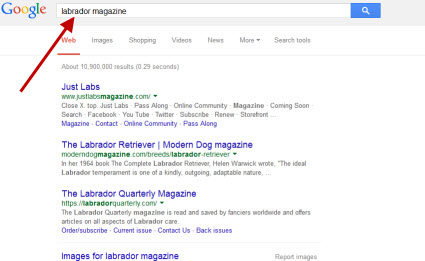 Fan clubs: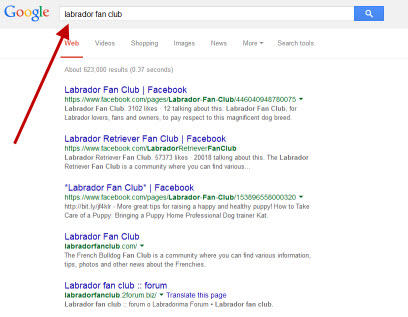 We can then enter these sites into the Audience Insights to see if they return an audience for our interests.
ii) If we use Facebook's Audience Insights we can take our keywords and enter them into the 'Interests' box, for example: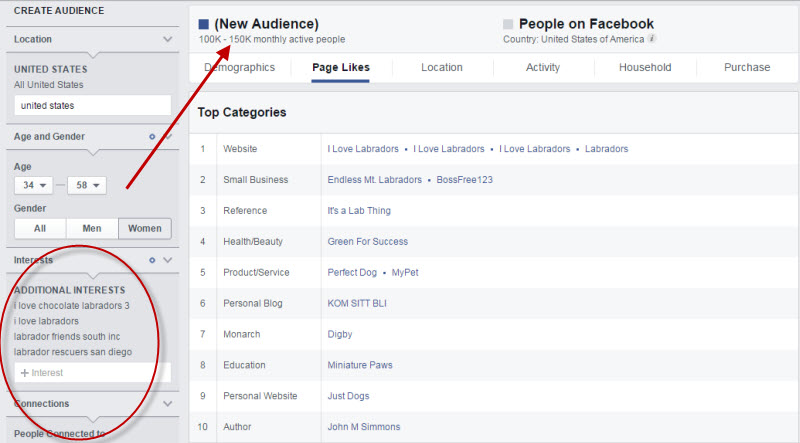 C) Once you have you have identified the demographics and interests of your audience it's time to set up your Facebook Ad.
We recommend you used Post Page Engagement for your ads and for this you will need to set up a fan page within your Facebook account so that you can post your ad to your fan page.
This is a necessary step since you won't be able to launch your ad as a Page Post Engagement unless you have created a post on your fan page to send people to.
You can set up a generic fan page for all your facebook ads or you may choose to set up a fan page for each niche i.e. firefighter mom, labrador fan, baseball lover etc.

Step 5: Create Your Facebook Post
A) Select your newly created fan page link from the left side of your home page to take you to your fan page.
B) Next you need to create a post for your fan page in order to be able to set up your Facebook Ad:
Keep the post simple and straightforward. Note, you will now need the url of the teespring campaign you set up earlier as you need to include this link in your post. Below is a screen shot of suggested text you can use for your ad - just change the title and words to suit your niche: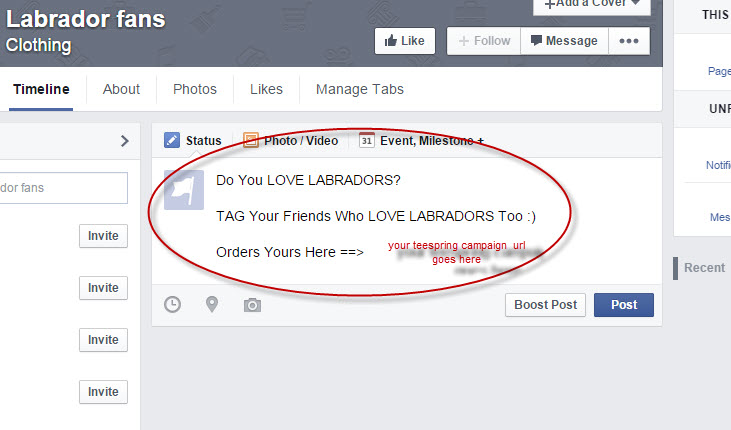 Remember to tweak the wording to suit your niche.
Once you enter the url of your teespring campaign the image of your shirt will appear see a demo example below: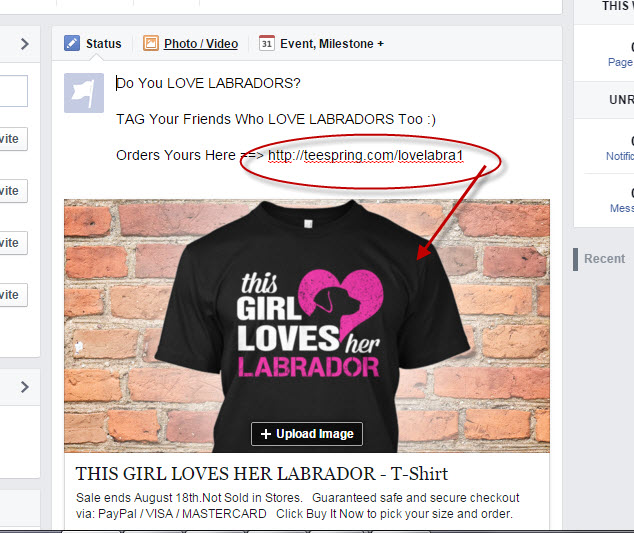 NB: You can also create an image using our Auto Model software if you prefer.
Once your post and image appears - hit the post button to make your post live.

Step 6: Create Your Facebook Ad
So now that you have your post ready it's time to create your Facebook Ad.
A) Click on the arrow in the top right of your Facebook homepage and then on the 'Create Ads' link.
B) Select Page Post Engagement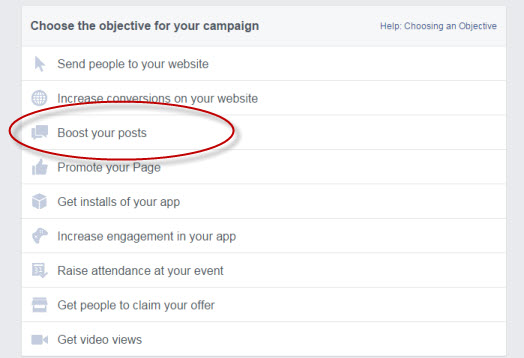 C) Your newly created fan page will appear on the next screen. If you have more than one fan page select the one you want from the drop down menu and then click the 'Continue' button: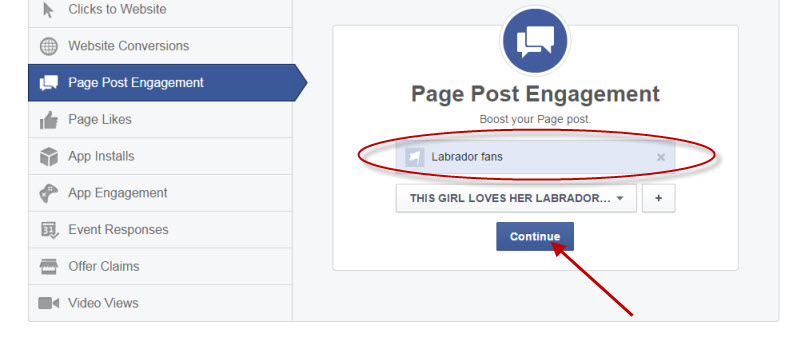 D) Next you will arrive on the page with your post ready to create your ad.
i) Click on the 'remove' link so that your ads will not appear on Mobile News Feed or the Right Column of Facebook pages. Conversions are generally not good from these ad spots so we only want our post to appear in the main New Feed

Once you have disabled these links it should look like this:


ii) Next you need to set the demographics so that Facebook knows who you want to see your idea. These are the demographics you researched in 'Audience Insights'. For example::
Location: United States
Age: 25-44
Gender: Female
Interests: I love pit bulls, pit bull chat, pinups for pit bulls inc
Selected: parents
These are entered in the screen shot below but you should enter the demographics you selected for your ad from your 'Audience Insights' research earlier.